Reparatie & Onderhoud van verrekijkers en telescopen
Uw kijker kunnen wij niet alleen optisch maar ook mechanisch reinigen. Door invloeden van stuifzand e.d. en uitdroging van diverse vetsoorten in u kijker kunnen diverse beweegbare delen zwaarder gaan lopen of zelfs vast gaan zitten. Wij kunnen deze delen reinigen en weer voorzien van de originele vetsoorten die speciaal ontworpen zijn voor langdurig gebruik en bestand zijn tegen temperatuurschommelingen.
Voor erg oude kijkers bestaan bijna geen onderdelen meer en bepaalde delen kunnen dermate vastzitten dat deze niet meer demontabel zijn. Neem dus van tevoren contact met ons op. Door gerichte vragen met eventueel ondersteuning van door u aangeleverde foto's kunnen wij een goede inschatting van de reparatiemogelijkheden en kosten maken.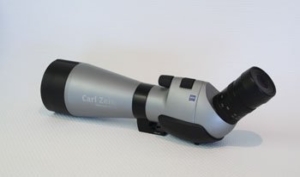 Zeiss Diascope 85
Deze Zeiss Diascope 85 hebben we hersteld, omdat door jarenlang intensief gebruik het zoommechanisme en het scherpstelsysteem vast was gaan lopen. Na het reinigen van de diverse delen en de scope te behandelen met de originele vetsoorten functioneert deze nu weer als nieuw.

Zeiss Dialyt 7x42
Door een val was van deze Zeiss Dialyt 7x42 de op en neer gaande brug ontzet en was de kijker scheel. Wij hebben de centrale as weer gericht en de prisma's gecentreerd en gejusteerd.

Leica Televid 77 telescoop
Deze Leica Televid 77 telescoop was na een val doormidden gebroken en waren de prisma's los gekomen. Wij hebben de prisma's weer uitgelijnd en vastgezet en de body weer met nieuwe bevestigingen vastgezet.

Kriegsmarine D.F. 10x80 uit WO II
Deze Kriegsmarine D.F. 10x80 uit WO II staat ook op diverse vuurtorens op de Waddeneilanden waar wij onlangs diverse reparaties en onderhoud hebben uitgevoerd. Door een val waren de prisma's gespleten en was de kijker onbruikbaar. Wij hebben met een speciale lichtdoorlatende film de prisma's weer verlijmd en de kijker weer gejusteerd en verder alle mechanische delen weer gangbaar gemaakt.
Collimator

With our collimator – an optical instrument only used by the largest manufacturers – we can project the images from your viewer onto a screen and then readjust it with the greatest precision.
Microscopes and antique binoculars
De Kijkerspecialist also repairs microscopes, antique binoculars, telescopes and other optical instruments. Feel free to inquire about the possibilities.